Item 1
Dynamically Enhanced (DE) Portable Unit
(Choice of White, Green or Cobalt Blue)
The Portable Unit is the answer when you want to enjoy the benefits of an energy infusion of structured water while you're out and about, whether around town, at a local restaurant, or on the road travelling.
This small unit packs a punch, creating the entire power of nature as it puts water through the cycle of vortices and energy — imitating the cycle of water running from the mountain peaks tumbling through the rivers and streams making its way to the ocean, and then evaporated again into rain.
That cycle removes memory from water.
Memory such as pollution, upset, pharmaceuticals and more are removed creating the cleanest, purest, most energetically potent water on the planet.
Water that not only heals you, but also heals the planet!

Enhancements and features include:
Sleek robust design
Absolutely power-packed
Easy to clean and maintain
The entire unit is made from food-grade materials
It is practically indestructible
It is embossed with the "Wu Wei" or Natural Action Chinese symbol in the hand grip area for easier handling
It is lightweight at just 9.5 oz
So easy to take when you are on the go in backpacks, purses, lunchboxes, and more
It drains easily from either end and can be stored with either end up
It is dishwasher safe
Backed by a 90-day money-back satisfaction guarantee, and a lifetime warranty
Use the Portable Unit For:
Traveling — structure your drinking water anywhere
Structuring juices of any kind to bring even more flavor out of the juice
Taking into a restaurant — structure your water, coffee, tea or any other beverages you order
Structuring wine and alcohol to take the harsh edge off
What Clients Are Saying About The (DE) Portable Unit
I noticed the effects within the first day.
"I love, love, love my water filter… In fact, I don't leave home without it! I have used all kinds of "conscious water" products and didn't feel any different. With this unit I noticed the effects within the first day. I felt like a deep exhaustion (that I didn't know was there) had left my body. That was just the beginning of the remarkable changes. One of the things the water filter does is structure the water so it embodies a photonic field, photonic fields dissipates positive and negative charges. Which means past emotional content disappears! Our bodies are 70% water, and foe me, having my body being 70% photonic has made being and facilitating consciousness so much easier! Also as each of us embody the photonic field of being we shift everything around us into a photonic field for 1,000 feet! Just imagine what the world would be like if everyone we allowing themselves to relax into their being? Thank you, Clayton and Natural Action Technologies! I'm truly grateful for the contribution to me and the world." ~ Rikka Zimmerman, Adventures in Onenss
Right from the beginning there was a marked difference.
"I used the Natural Action Water on my wheatgrass. When I purchased the Natural Action Water DE Portable I told myself that I would have to see or experience clear and concrete benefits, so I did a test and used regular tap for one tray and Natural Action Water for the other. Right from the beginning there was a marked difference, and it's very clear in the finished trays. My 2 grown sons were entirely doubtful. But when they saw the wheat grass trays they wanted to use it at every opportunity! One glance at the trays tells the difference, you do not have to hem and haw and try to figure it out etc. Very amazing!" ~ Janice
Skin condition improved, and skin is soft.
"Two weeks ago we purchased a whole house Structured Water unit and a portable Structured Water device. We also took a chance and had our water softener removed and taken away. Wow! My wife loves our Structured Water unit. She does not miss the water softener at all, her hair is soft and so is her skin. Another neat thing is for years she had been fighting with a skin condition on her nose that left the bridge of her nose rough and scaly and she had to use a prescription to make it go away, however now in just two weeks her skin condition has gone back to normal and the rough spot is gone. She has also noticed that her skin is looking more youthful.I have noticed that my mental clarity and energy is much improved." ~ Lin & Mike; Decatur, Indiana
The Portable Unit is a wonderful way to improve the flavor, neutralize the toxins, and increase the energy of any beverage.
Enjoy the benefits of structuring your water, coffee, soda, tea, juice, beer, wine — any beverage of your choice — and because it's small and portable, you can literally use it anywhere.
Just pour any liquid through the unit into a glass or container. And, to have an even greater impact on what you're drinking, you can pass your beverage through up to 6 times!
Use the water from your unit to wash or soak your fruits and vegetables before cooking them or pour warm water through the Portable Unit for pleasant footbaths. Consider all the ways you come into contact with liquids and imagine how a better experience with liquids will change your life.
Fill up the pet's water bowls, the fish aquarium, or the birdbath, take it hiking or camping on your next vacation, eliminate films and streaking when you're washing windows. The uses are truly endless!
Portable Unit Specifications
Available in cobalt blue, green or white (you choose at checkout)
Length end-to-end: 7.5″
Weight: 9.5 oz
Item 2
Natural Action Technologies Shower Unit
The Dynamically Enhanced Units have a flow-form inside that is the same structure and size as the flow-form in the standard units, but is made from a combination of proprietary materials that dynamically enhance the energy of the unit and create a static energy that exists even before the water flowing through the unit is structured.
Enjoy refreshing, life-giving, energy enhancing water each day
Structured water is dynamically and energetically enhanced by the energy in the added materials, enabling you to reap countless benefits just by bathing in this amazing energy.
Prepare for the change you've been waiting for and begin living an empowered and energy-enhanced life with Clayton's Structured Water.
The new Dynamically Enhanced Water Structuring Units:
Restore your body and the environment
Eliminate and absorb harmful elements to Your Body and nature
Clean water from almost all inorganic compounds, including: pesticides, bacteria, nitrates, free radicals, heavy metals and other harmful organisms
Neutralize the negative impact of electromagnetic fields
Increase immunity to illness and disease
Rejuvenate the skin
Enhance and increase the energy of the structured water
Purify water
Imagine showering under a warm waterfall of enlivened, life benefiting, droplets of water!

With a Natural Action Technologies' Cobalt Blue Shower head, you will be getting the same healthy benefits every time you take a shower.
Natural Action Technologies' Structured Water flow-form maximizes the action of a mountain stream creating what is referred to in nature, as a double vortex. This means when you drink a glass of water, or you bathe/shower in water that has flowed through Natural Action Technologies' Structured Water products, you are getting the same energetic, life-enhancing properties you would find in nature's water.
Simply twist off your existing shower head, and install the Natural Action Technologies' Cobalt Blue Shower head.
Benefits include:
Soft healthy skin and hair
More moisture for skin and hair
Eliminates itchy skin from chlorinated water
No hard water build-up in shower
Assists in improving any skin conditions
All memory held in water is wiped clean
Water that is alive and full of energy
Greater sense of well being
Shower Head Specifications
Available in cobalt blue only
Length with connectors: 5″
Weight: 9.4 ounces
The Mini Shower Unit is an amazingly convenient way to enjoy the healthy benefits of bathing in structured water and is easily removed to take with you when travelling.
Just like the portable unit, you can have the same amazing experience and continue to live with the addition of Structured Water wherever you are!
Use the Shower Unit:
For showering and bathing in Structured Water
For filling water containers
As an additional portable unit
Take it with you when you travel
Mini Shower Unit Specifications
Length with connectors: 7.5″
Weight: 1 lb, 4 ounces
Item 4
Under-the-Sink Unit
Never live a day without Structured Water. This environment and the contaminants we are exposed to on a daily basis can all be eliminated — it only takes one step.
Commit to enhancing your relationship with liquids and implement the powerful change that these Water Structuring Units have to offer.
Your Body Will Feel the Difference

With a Natural Action Technologies' Structured Water Under-the-Sink product, you will enjoy drinking and cooking with water that is balanced and hydrating.
And, you can add an Under-the-Sink product to any filter system you have to improve your drinking water.
This can be used for:
Works with filter for incredible drinking water
Wash fruits and vegetables to neutralize pesticide residue
Structures water for the dishwasher for cleaner dishes
Softens skin while washing dishes
Structured Water for all your cooking purposes
Installs easily under any regular sink in kitchens or bathrooms.
Under-the-Sink Unit Specifications
Length with connectors: 8.0″
USA Connection Hoses: Includes two 12″ connecting hoses. (1) connecting hose has 1/2″ and 3/8″ ends MNPT AND (1) 1/2″ and 1/2″ ends MNPT connecting hose
International Metric: Includes two 12″ connecting hoses. 15mm on each end of the hoses
Item 5
BONUS Cobalt Blue Easy Carry Spray Bottle
Now you can enjoy even more Structured Water portability with a Cobalt Blue Easy Carry Spray Bottle.
The Translucent Cobalt Blue Portable has the same energetic elements as the Dynamically enhanced Portable unit.
Natural Technologies discovered how pouring water in your Portable unit multiple times will enhance the structuring effects each time it moves over the flow from inside. This is accomplished by pouring the same water through the Portable unit several times or covering both ends with your hands and move the water back and forth over the flow form (the number of times is up to you).
Then, fill your Cobalt Blue Spray Bottle with the enhanced structured water and use it everywhere!
Here's the best part: a spray or two of your enhanced structured water will instantly structure all the water in any beverage or food.
Your beverage will be transformed into a healthier, smoother state — and in most cases, will even improve the taste!
Benefits of enhanced structured water in your Cobalt Blue Easy Carry spray bottle:
Convenience: easy to carry in a pocket, purse, or fanny pack
Add essential oils for body spray or room freshener
Instantly add negative ions into the air for a feeling of well being
A couple of sprays will beautifully set your make up for the day
Cobalt Blue holds structuring longer than any other color
Spray on skin to help relieve irritation
Unlimited Possibilities!
Tomatoes out of this world…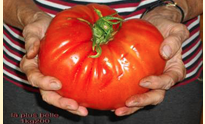 "I am retired close to the city of Pau, in France, and let me inform you about the results I have thanks to Natural Action Structured Water. The pictures I send you are proving the results I had in my garden. Baths feel better, pH is stabilized to 7, I don't have to use pH reducer anymore. And these tomatoes are out of this world! The one in the [left] picture is over 2 lbs (1kg) all by itself!" ~ Laphon Puyo; Pau, France
A company I can stand behind!
"As I have a whole house system installed and others now also have theirs installed we are finding we did not have to wait long to know that there is really a difference in this water and that it is really doing the things we were told it would. However it did them so much quicker than we expected. We know some of the most skeptical people on earth and even they praise the NAT system and the benefits they are seeing so quickly. We have not found one testimonial on the NAT site that has not proven to be true and we are all anxious to get started in our yards and gardens to see the fantastic results that have been shared about that whole experience. We truly look forward to many years of helping others by educating them on Clayton's great products. We are very happy to be a part of the NAW family." ~ Gary & Bobby Kay Dutton
Dramatic results with my plants!
"Thank you so much for giving me some of the DE Structured Water the other day. I drank the water and gave my indoor plants a little drink too. About 3 days later I noticed that the leaves had turned a dark vibrant green. Not only had the leaves changed color, but the texture of the leaves had changed as well. The best way I can describe is that they had become turgid; somewhat like a crisp carrot. I knew the plants would benefit from the structured Water, however, I was astounded to see these dramatic results in such a short period of time. If this is what the Structured Water can do for plants, I can only imagine what it can do for me! Naturally I couldn't wait to purchase one. Thank you, thank you, thank you!" ~ Pamela
Lightening dark spots on my skin.
"I got my unit in this week. LOVE IT!!! The water is lighter and softer… even kind of effervescent! I use less soap in washing machine, dishwasher and in the bathroom. I also already notice a change within me… my skin is looking better… dark spots are lightening up, and it's only been 4 days! I just can't thank you enough, Clayton, for your inspired work."~ Dot Schaefer, Montgomery
Dramatic skin results.
"Recently I have started having brown pigmented areas on my face. These look like scabs but they are not scabs. It is brown pigment under the skin. When I started drinking the Structured Water they seemed to float to the surface of my skin and peel off and the skin underneath is perfect with no residual sign of blemish. This leads me to wonder what it is doing inside my body?" ~ Mary Davis
Clayton Nolte
Inventory & Founder of Natural Action Technologies
Clayton Nolte is an inventor and founder of Natural Action Technologies. His life experiences have been in the realms of infinite possibilities, and he has spent much of the last 40 years exploring physics, math, the properties of water, and the effects it has on life. Nature's own Structured Water had the unique, recurring phenomenon of appearing where no water should. With an innate desire to emulate this for more-in-depth studies, Nolte delved into the inner world of water. Through that exploration, he has discovered many innovative technologies, and has invented and is now manufacturing a full line of Structured Water Units.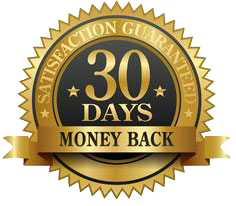 30-DAY UNCONDITIONAL MONEY BACK GUARANTEE
If you are not 100% satisfied that this investment will assist you in your personal development, then you can contact us within 30 days of purchase for a full refund with no further obligations or commitments on your part. If you have any questions, please contact us at: support@elevatedexistencesummit.com