Item 1
Level 1 — Soul Level Animal Communication
Home Study Course
(Retail Value: $497)
What is Soul Level Animal Communication?
Did you know you have the ability to connect with animals on a level that is beyond the physicality of playing catch with your dog or snuggling with your cat?
Animals are here to serve as teachers, messengers, leaders and spiritual gurus. They are in YOUR life because they have chosen you on a soul-level to teach you how to be a better human and help evolve your soul to a level of pure love, and Soul Level Animal Communication™ shows you how to tap right into this!
This 6-week course is a unique opportunity as Danielle MacKinnon is using her more than 15 years of experience as an animal communicator to give YOU the tools and know-how to tap into a Divine aspect of your Self to access and develop your ability to intuitively connect with animals.
The Danielle MacKinnon School of Animal Communication is the only animal communication school that explores animal soul contracts and works at the soul-level while also developing your intuitive skills.
Danielle will teach you everything you need to know to expand, grow, and take off running on this new adventure with animals and intuition!
If you just plain love animals and you're looking to learn how to communicate better with them, Danielle MacKinnon's Homestudy course is just for you!
Her close to 2 decades as an animal communicator, she has met many people who want to deepen the relationship with their pet.
Have a dog you absolutely love? Curious about why your cat does that thing that she does?
Danielle's Home Study course will show you the technique and give you plenty of opportunities to practice – from the comfort of your own living room!
In this 6-week video course, she will show you how to merge your innate intuition (even if you aren't yet aware of it) with that of the animal to experience a depth of connection like never before.
You'll learn how to work with the 3D and Soul levels of connection to intuitively help people and their animals through lessons and challenges into growth. If you want to learn at your own pace, in the privacy of your living room, this course is for you!
Here is the 6-Week Breakdown:
Lesson One: Energy Management
This is the foundation to ALL animal communication work. It is what allows Danielle's students to be successful, confident and intelligent throughout the entire course and into their own animal communication! She likes to say that this week's lesson is her little secret "power pill" that is unique to her coursework!
You'll walk away from the first class with two NEW techniques you can begin using immediately to manage your energy.
Lesson Two: Body Mapping
Danielle helps you understand how animals communicate intuitively using their bodies. You'll learn how and why animals often choose to work through their physical bodies, how to open your OWN body to intuitively receive the messages from the animals, and how to begin connecting with an animal — yup, week TWO!
During this lesson, you'll connect intuitively for the first time with your animal….how exciting!
Lesson Three: The White Room
What messages will the animals have to give? Find out as Danielle teaches you her specialized technique for intuitive animal connection. You'll learn the four most popular methods animals use to get their intuition information through to you, another powerful tool for energy management, how her famous "White Room" works and how to put it to use right away!
During this lesson, you'll again intuitively connect with your animal, but you'll do this using one of the new techniques you learned in Lesson One. This technique will help you figure out what your connection space in your head actually LOOKS like, so you can get back there when you need to.
Lesson Four: Guru Animals
My work has taught me that animals are without a doubt our gurus! This week I will teach you how to work with them in that capacity by showing you how animals are constantly working to help people better themselves, how to take your communications to the deepest possible level by allowing the animal to become a guru, and the best way to give and receive an animal reading.
You'll be able to use what you learn in this lesson to deepen the relationship with the animals in your life — in other words, you'll find out what the guru connection is with your own pets.
Lesson Five: In-and-Out Connection
Now is the time to start pushing the limits on what you can do! Learning to master the "in-and-out connection" is important to experiencing a successful soul-level animal communication reading. In week five, you will learn what it looks like to hold the connection too tightly (and how this can hinder your readings), how to manage distractions, and the most respectful type of reading and connection for the animal.
PLUS during the class, I will take you through a reading so that you can try out the in-and-out connection yourself!!
Lesson Six: The Soul Contract HOW
Every animal is teaching their human a beautiful soul lesson. Now is the time to pull together everything you've learned thus far so that you can go truly deep — to the heart of the matter with each animal with whom you connect!
Here is where we'll take your animal communication skills to the next level. Danielle helps you understand exactly WHAT your pet is teaching you. You'll be able to use what you learn here to figure out what soul lessons your pets are helping you master!
And specialized just for you, all of your classes, homework, recordings, and everything else will be accessible to you through your own personal dashboard. 


At the end of the course, you'll have learned everything you need to know to begin connecting with animals everywhere. Basically, you're becoming an animal communication superstar!
Item 2
Live Q&A Call on Animal Communication with Danielle Mackinnon
(Retail Value: $99)


The LIVE Call will happen May 30, 2018 at 7 p.m. Eastern
You will receive call details directly from Danielle prior to the call!
As you move through the class, you're going to have questions. In this exclusive-to-Elevated Existence live webinar call, you'll have the chance to get all of your answers straight from Danielle!
I was completely floored

"I had never taken an animal communication class before and was somewhat apprehensive. There was an element of trust and respect, which helped me open up in ways I wasn't aware of, and I was pleasantly surprised with the results! The experience was quite validating for me. As much as I adore animals, I didn't think I could communicate with them, and was completely floored when the opposite proved true! Danielle is very generous and kind." ~ JR Stephens
Studying with Danielle makes communicating with animals easy

"This class opens another world that may ordinarily appear a complex process. Studying with Danielle makes communicating with animals easy and uncomplicated. You will surprise yourself!" ~ Lynn B.
Thank you Danielle

"Danielle MacKinnon's School of Animal Communication is not just about learning a skill and practicing it professionally. It is about witnessing, feeling, and touching the unconditional love of animals toward people. Being able to connect with an animal at the soul level through Danielle's technique is such a gift. Thank you Danielle for your commitment to people and animals." ~ Charlotte S.
This class was beyond what I had imagined it to be

"This class was beyond what I had imagined it to be. Danielle has taught me so much more than how to connect with the animals, not only with my own, but with others and those in Spirit. Her attention to details, exercises and homework made my experience not only educational, but fun. I have bonds with my classmates that will last a lifetime. It is now second nature to me to connect with all the animals that cross my path, both earthly and beyond. I am amazed by my ability and ease of connecting to all God's creatures and honored by their trust and love in me. I love living in a higher and loving vibration with the fur babies!" ~ Sarah D.B.
Danielle is truly an exceptional teacher

"Danielle is truly an exceptional teacher. My experiences in her Soul Level Animal Communication class far surpassed my expectations. Not only have my animal communication skills improved dramatically, but other aspects of my life have had very positive, unexpected, turns. I cannot say enough of this wonderful learning experience with Danielle!" ~ Marcy Welch
Danielle MacKinnon
Animal Intuitive and Intuitive Coach
Danielle MacKinnon is the author of "Soul Contracts: Find Harmony and Unlock Your Brilliance" and "Animal Lessons: Discovering Your Spiritual Connection with Animals" and her school, the Danielle MacKinnon School of Animal Communication, is the only school of it's kind to teach animal communication using cutting edge technology to students around the world. She has been highlighted in newspapers, magazines, radio shows, and more and her client base spans the globe. She is also featured in Hay House author, John Holland's book "Spirit Whisperer," in Elevated Existence Magazine, OfSpirit Magazine, Cosmopolitan magazine and others.
She has been named one of Psychic Investigator Bob Olson's Best Psychic Mediums and on of the top 100 Psychics and Astrologers in the United States. She has also been featured on Afterlife TV; on the Juicy Living Tour with Lilou Mace; a featured teacher faculty member at the Omega Institute, and the Kripalu Center, as well as other globally recognized teaching and wellness institutions.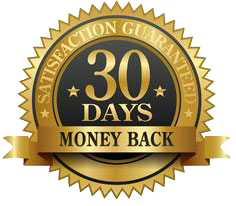 30-DAY UNCONDITIONAL MONEY BACK GUARANTEE
If you are not 100% satisfied that this investment will assist you in your personal development, then you can contact us within 30 days of purchase for a full refund with no further obligations or commitments on your part. If you have any questions, please contact us at: support@elevatedexistencesummit.com