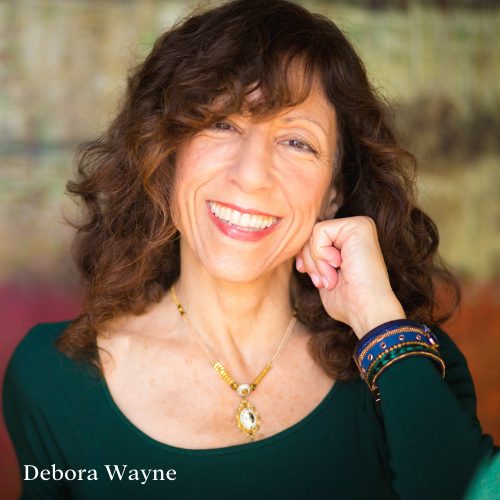 Debora Wayne's Limited Time Special Offer B!
58% Off for Elevated Existence Summit Listeners!
Retail Value: $594
Now Only $247
Sold Out
If you've been suffering from chronic pain, depression, anxiety, trauma, binge-eating, insomnia or other chronic conditions, and you've tried everything but still don't heal . . .


Would you be open to a different solution that has proven to get results for thousands of men and women around the world?

Item 1
A Day of HighSpeed Healing IMMERSION
(Retail Value: $497)
Are you willing to take ONE day for yourself?


A day designed to Release Your Pain, Recharge Your Energy, Get Unstuck and allow Deep Healing so that your body, mind, spirit and life begin flowing and moving in the right direction?


Then Join Debora Wayne for . . .


A DAY OF HIGH-SPEED HEALING
A revolutionary, Non-Drug Solutions for Chronic Pain, Depression, Anxiety, Trauma, Battles with Weight, Binge-Eating, Burnout and more!
Join Debora LIVE: April 19, 2021
*Call Begins at 10 am – 12:30 pm PST
(sometimes she runs over!)
*Mid-Day Break with Worksheet/Assignments
Designed to continue your healing process
*Return at: 5 p.m. – 7:30 p.m. PST

NOTE: You don't have to travel to be a part of this very unique event! You will simply call in by phone or connect over the Internet via Zoom to experience the power of the HighSpeed Healing IMMERSION for yourself from the comfort of your home! You'll feel empowered by Debora's personal help as she shows you exactly hot to release your pain, patterns and suffering!


PAIN IS NOT YOUR PROBLEM.
PAIN IS YOUR FRIEND!
Your pain is trying to tell you something! Until you listen, it will continue to show up in increasingly more attention-getting (and painful) ways. It will not stop until you get the message.


If you're thinking, "I'm not in physical pain, I'm dealing with "fill in the blank," this program covers all types of pain . . .


It could be depression, anxiety, trauma, struggle with weight, digestion, yo-yo dieting, binge-eating, insomnia, money pain, abusive relationships . . . the list goes on.
If whatever you put in the blank causes you frustration, emotional upset, financial worry, ongoing stress, or just irritates the living daylights out of you, then you are in the right place!!


If you're tired of the condition you are currently in, and are truly ready for a way you, The Day of HighSpeed Healing is definitely your next step to take . . . you have come to the right place!
What to Expect from the Day of Healing
Experience 2 full HighSpeed Healing Immersion Sessions — a method that has show to provide 6 times more measurable pain relief and Energy increase than other methods in just one session (OVER $1,000 VALUE!!!)

Direct Access to Debora in both the morning and evening sessions (5+ hours total – Over $2,000 value) to discover the hidden reasons causing dis-ease, pain and more, that medical testing will not reveal


Begin to dissolve YOUR damaging patterns of pain, panic, worry and doubt, and create new patterns of strength, energy and calm

Raise your energetic vibration and rapidly accelerate your healing process


Release the hidden causes of pain without drugs supplements, PT or depriving yourself of the foods you love.

Learn how to finally stop worrying about your pain and draining your energy

Be introduced to the EXACT steps you must take if you want to live pain free

Feel more ease and freedom in your body, mind and spirit so that you can live your highest purpose and most joy-filled life

Release, worry, doubt, indecision and experience greater focus, clarity, creativity and productivity
The full mp3 recording of the entire day will be delivered to your inbox within approximately 48 hours after the LIVE Day of HighSpeed Healing Immersion. You'll have 5 days of unlimited access to listen again, and again AND receive the HighSpeed Healing Immersion Session to work on any are of your life! ($497 value!)

NOTE: The HighSpeed Healing Immersion sessions are just as powerful when you listen to the recordings so don't worry if you can't make it to the live call!
Day of Healing Schedule for April 19, 2021:
Starts at 10 am PST to join Debora and the group.

Discover the EXACT 3 steps you must take to get your energy and life back on track and live pain-free

Discover the TOP 3 Hidden Reasons that lie at the root of all pain and suffering she discovered after working with tens of thousands of men and women in 150 countries and recovering from her own personal "health hell" for more than 30 years

EXPERIENCE FOR YOURSELF how a little-known scientific discovery has the potential to rapidly find and release the hidden root cause of your pain more rapidly than other available methods

EXPERIENCE the 1st FULL Session of Debora's HighSpeed Healing energy ($1,000 value!)

You will be guided to discover the hidden reasons for your particular type of pain, and how to release the real root cause

LIVE Q&A – Ask Debora your toughest questions

BREAK: You will receive an assignment to contemplate and complete during the break

Return at 5 p.m. PST for more Q&A and Debora will take volunteers to work with
Item 2
HighSpeed Healing Universe Introductory Membership – 4 Weeks of Access to LIVE calls
(Retail Value: $97)


Get ongoing relief from Chronic Pain, Trauma, Depression, Anxiety, Fatigue and More inside the new High Speed Healing Universe Every Week!


This is a membership Program perfect for people who are both new to this type of work AND/OR experienced "old-timers."
This is a community that is interested in "out-of-the-box" topics and tools for healing, self-care, expanding consciousness, breaking free from the "pains" and trauma from the past, and living with freedom and joy. 
Weekly calls include topics, tips, tools, surprising conversations, guided meditations, and a HighSpeed Healing Session once per month. 
You'll be connected with like-minded people from around the world who are committed to growth, health, happiness, high energy and living from love not fear.
Inside HighSpeed Healing Universe You Will Experience:
Leading-Edge, Surprising (often shocking) Topics, Tips, Tools and Techniques designed to

Expand Your Mind, Heal Your Body, Inspire You and Keep You Moving Forward

so that you grow personally and spiritually

Meditations + Movement

to experience greater Freedom, Ease, Inner Peace and Flow

One Weekly Call Each Month includes

(1) HighSpeed Healing Session

every month.

New Solutions for Pain Free Living with ZERO drugs!

Debora's HighSpeed Healing Restorative Healing YOGA –

Let's just say this is one Addiction that's actually good for you! (non-athletic – anyone can do this!)

Learn New skills you will use immediately that

improves the quality of your health, relationships and life

Learn Debora's special Self-Care Tools to bring in the Calm and keep it there!

Meditation Made Easy –

Debora's unique method of meditation

that ANYONE can easily do to change chaos to calm!

Guided Healing Meditations

for increasing joy, finding inner peace, opening up intuition, releasing pain, finding your higher purpose, gaining clarity, letting go of past hurts, attracting love and more!
From MS to Walking: After the Day of Healing
No More Pain! Chronic Pain & Fatigue, Insomnia, Vision Problems Gone
Complete healing from Joint Pain, Muscle Pain, Insomnia, Anxiety and More!
Healing a Rare Eye Condition that no specialist was able to help
No Seizures for 2 Years
"Before my first experience with Biofield Healing, I was having several seizures a week. I started having a seizure just before the Biofield Healing session began on the call, and then the seizure stopped! I haven't had another seizure in almost 2 years! I then attended The Pain Free Living Program®. I had tried to attend college twice before and had to drop out because of severe anxiety problems. I am happy to say that I just finished my first semester of college with great grades thanks to Debora's program! Biofield Healing has truly changed my life for the better and I will be forever grateful!" ~ Laurie W., Anderson, Calif.
No Pain Spasms in 6 Months
"This time last year I could never have imagined how much my life would change. (Suffered from Chronic Fatigue Syndrome, Fibromyalgia, colitis with daily diarrhea and multiple chemical and food sensitivities). I haven't had a major pain spasm for six months!!! My oncologist doesn't want to see me for a whole year! I'm a full-time author and will be living a lot of the year in the mountains- all dreams come true. Thank you Debora Wayne." ~ Marilee Seymour, Bellevue, Wash.
I am Pain Free
"Before going to Debora I was in constant pain. During the past three years I've had lumbar injections, used anti-inflammatory patches and needed daily pain medication. Since my sessions with Debora I no longer need medication, I am pain free, exercising again and loving life. What a blessing!"~ Carlene S., Chula Vista, Calif.
Something Lifted
"I had struggled with binge eating for years. The more I restricted and tried to control, the more I binged. I knew that there was a place just as there was when I was a kid where I didn't have to restrict anything. I could just eat when I'm hungry and eat what I want and stay calm and thin! Debora helped me get that back. In the Pain Free Living Program I was able to challenge my limiting self beliefs and with the Biofield Healing Sessions something lifted week after week! As I was going into my final week's session, I suddenly realized that it had been WEEKS since I had last binged. I couldn't even remember when that was! It feels so good to no longer be afraid of food but instead eat well, eat in moderation, and enjoy it! I hope that everyone can find this peace with food and not be afraid of food. Thanks Debora!" ~ F.M., St. Paul, Minn.

Healed Long-standing Asthma
"I attended Debora's Pain Free Living Program® and after several healing sessions my long standing asthma completely disappeared. That was 6 months ago no more asthma! I am so grateful for your healing." ~ Jeanette M., Perth, Australia
Everything Has Changed in My Life
"Working with Debra I immediately felt relief from mental pain.  My body was lighter and my mind clearer. Within 24 hours of my first biofield healing session, I felt physical pain and emotional pain leave my body. My biggest discovery is that I can heal and control the problems that had kept me depressed, isolated and blocked. I am a changed person.  I find that opportunities and connection with others that I have always wanted are coming to me now without effort.  Physically I am getting stronger and I love my life. Everything has changed in my life.  I am excited about my future and so very grateful for the healing I have received."
I Unequivocally Recommend This Work
"I was privileged to participate in a Group Healing session with Debora Wayne and didn't know what to expect. I was fairly resistant and thinking that nothing would happen as a result of my resistance. However, the energy orchestrated by Debora overcame the resistance and my experience shifted from boredom, passivity and endless negative mind chatter to a sense of bliss and total connection….. my body was infused with healing energies moving within and healing all that lay within its path. I unequivocally recommend this work and Debora Wayne specifically as a group and private facilitator." ~ Rhona H., Los Angeles, Calif.
Debora Wayne, Founder & CEO of The International Chronic Pain Institute is a world-renowned energy healer specializing in the HighSpeed Healing™ method for rapid release of Chronic Pain, Depression, Anxiety, Trauma, battles with Weight, Binge-Eating, Chronic Fatigue, and other chronic conditions. Her specialty is helping people to find and remove the Hidden Reasons that lie at the root of pain and mysterious symptoms but that often don't show up on diagnostic tests.
A highly sought after speaker, and #1 Bestselling Author of "Why Do I Still Hurt?" Debora earned degrees and certifications in Psychology, Hypnotherapy, & Chemical Dependency Counseling, has 35 + years practicing and teaching Meditation, is a nationally recognized Glass Artist, a former professional Modern Dancer, Certified Yoga Instructor, and leads the Only Practitioner Training worldwide in her proprietary method known as HighSpeedHealing. For more information visit, www.internationalcpi.com.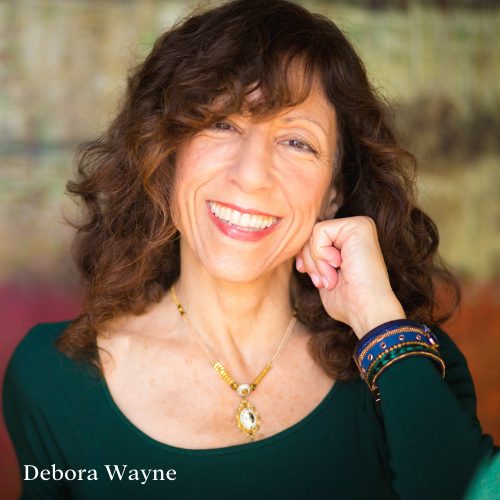 Debora Wayne's Limited Time Special Offer B!
58% Off for Elevated Existence Summit Listeners!
Retail Value: $594
Now Only $247
Sold Out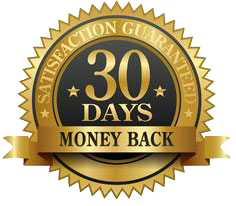 30-DAY UNCONDITIONAL MONEY BACK GUARANTEE
If you are not 100% satisfied that this investment will assist you in your personal development, then you can contact us within 30 days of purchase for a full refund with no further obligations or commitments on your part. If you have any questions, please contact us at: support@elevatedexistencesummit.com


DISCLAIMER:  The information, materials, and attachments contained herein are designed for educational purposes only and may not be reproduced in any manner or format without specific written permission from Debora Wayne, LLC. This information is not designed or intended to provide guarantees of any kind nor to be considered medical advice, medical diagnosis, or medical treatment. Debora Wayne LLC,  The Biofield Healing Institute®, International Chronic Pain Institute™ and any and all associates of Debora Wayne LLC, and/or The Biofield Healing Institute®, International Chronic Pain Institute™shall not be responsible or liable for any medical, financial, or other claims inferred from these materials. You are solely responsible for continuing with your own medical treatment and care.   Any statements have not been evaluated by the Food and Drug Administration. Results are affected by a number of factors over which we have no control.